NEWS
Reivers' Knipfel picks Cyclones
Kevin White,
kevin.white@nonpareilonline.com
7 hrs ago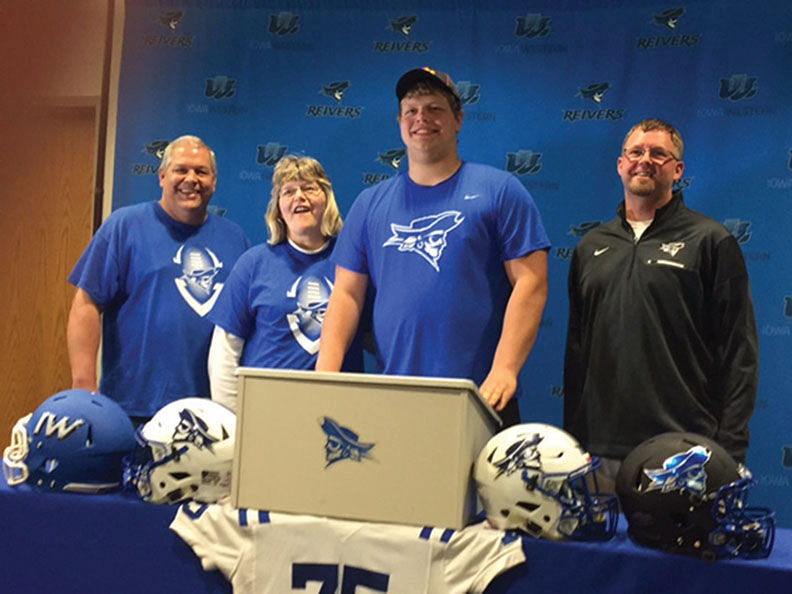 Iowa Western offensive lineman Josh Knipfel signed a letter of intent on Tuesday to attend Iowa State in the 2018 season. Knipfel is a 6-7, 320-pounder from Hampton, Iowa. Also shown, from left, are Josh's father, Dennis; Josh's mother, Suzy, and IWCC coach Scott Strohmeier.
Josh Knipfel dressed himself in cardinal and gold, picked out a nice grassy spot and spent many of his childhood fall Saturdays cheering on his guys.
"My team was the Cyclones,'' he said. "I was the kid on the hillside that went to all the home games with my best friend.''
That's why, when Michigan State, Virginia Tech, West Virginia and Memphis came calling, Knipfel stayed true to his school. After one season at Iowa Western, the 6-foot-6, 315-pound offensive guard on Tuesday signed to continue his career at Iowa State. He will have four years to use his three seasons of eligibility at Jack Trice Stadium.
"Being able to play on that field is definitely a dream come true,'' Knipfel said.
Knipfel grew up in Hampton, about an hour northeast of Ames, and earned all-state honors at Hampton-Dumont High School. But he received no FBS offers and signed with Iowa Western, where he quickly established himself as a productive guard.
Iowa Western coach Scott Strohmeier believed he might get two years out of Knipfel when no offers came after last season. He went through spring ball, but then a scholarship became available in Ames. Others schools quickly moved in, but Knipfel knew where he wanted to be.
"I love the culture that they're building there and I fell in love with the coaching staff,'' he said.
Strohmeier said Knipfel is the 45th former Iowa high school player to come through his program who didn't have an FBS offer out of high school and eventually landed there. He's also the 11th Iowan who spent one year or less with the Reivers and moved on to an FBS program, the coach said.
"Josh did everything that he had to do,'' Strohmeier said. "Academically, a really good student. A really good teammate off the field. He came in with his mind set that he wanted to play Division I football.
"We'd love to have him back, but at the same time I think that's part of the business we're in. We're trying to get these kids to move on to the next level.''
Knipfel said playing against the quality competition the Reivers face gave him the belief that he had the ability to play in a Power Five program.
"Here you play against a lot of great football players,'' he said. "Then you see where those guys are going and it definitely gives you confidence that you are going to play at the FBS level.''
After traveling to Ames with parents Dennis and Suzy last Thursday, Knipfel woke up Friday morning and informed the Cyclones of his decision.
Strohmeier expects him to compete immediately for playing time.
"They're going to recruit him only to come in and compete for that starting spot,'' he said. "He's ready to go. We talked about it as a staff earlier that he's as ready as any of our offensive linemen to go in someplace and play.''