NEWS
Reivers Softball Sweeps Western Nebraska
Moving the games up to take advantage of the unusual February weather, Iowa Western enjoyed the 70-degree day with a pair of five-inning routs of Western Nebraska, 8-0 and 10-2, at Iowa Western on Tuesday.
"Western Nebraska is a quality program," Reiver coach Ben Greer said. "They usually win 50 games a year and they win region titles. Our pitchers did an excellent job and our hitters swung the bats pretty well."
In the first game freshman Brieanna Brock pushed her record to 5-0 with a two-hit shutout. Not looking razor sharp, Brock still struck out six (she has been averaging 11 strikeouts a game), walked one and hit a batter.
At the plate, Rebecca Riley had two hits and scored twice; Keelee Huff was 3 for 3, scored three times and drove in a run; and Celia Valenica drove in three runs, scored once and was 2 for 2. Patricia Sherman doubled, tripled and drove in three runs and Zoe Hicks doubled for the Reivers.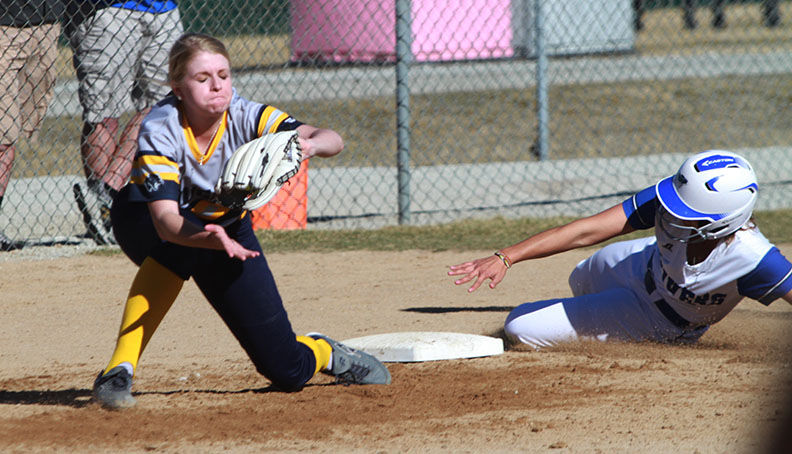 In the second game, sophomore Alyx Hagen pitched a three-hitter. She did not strike out a batter, walked three and gave up one earned run. In the fourth inning, three Reiver errors led to an unearned run and loaded the bases but Hagen worked out of the jam to highlight her performance.
Half of the Iowa Western hits were doubles. Valencia singled and doubled, scored twice and drove in a run. Naomi Terrazas hit a two-run double and Hicks, Brooke Doumer and Isabella Manuel each had RBI doubles.
Riley was 2 for 3 with a run scored and two RBIs.
"The girls did a good job in the second game," Greer said, "of cleaning up the base-running mistakes we made in the first game."
Western Nebraska 000 00 – 0 2 1
Iowa Western 014 03 – 8 13 0
WP: Brieanna Brock (5-0). LP: Ashley Thomas (1-1).
Western Nebraska (5-3) 100 10 – 2 3 2
Iowa Western (9-3) 207 1x – 10 10 3
WP: Alyx Hagen (2-2). LP: Sarah Linford (2-2).